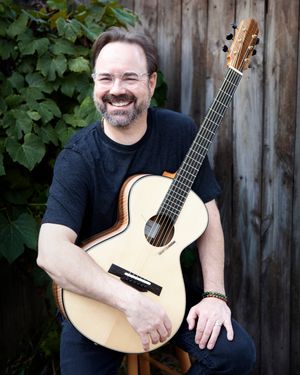 Vin Downes began studying guitar at the age of eleven. His early interests were in electric guitar, but this all changed when he heard the opening notes of David Cullen's "Along the Way" on a Windham Hill Records guitar sampler. He immediately immersed himself in the fingerstyle music of Will Ackerman, Michael Hedges, Alex deGrassi, and David Cullen. 
Greatly influenced by the music of artists on Windham Hill Records in the late 1980's, Downes furthered his interest of fingerstyle guitar technique and music composition by earning a degree in classical performance/music education from William Paterson University in New Jersey.  
After college, he studied guitar with NJ guitarist, John Sheehan. Sheehan introduced Downes to roots music through the stylings of guitarists John Fahey, Mississippi John Hurt, Blind Blake, Reverend Gary Davis, Davey Graham, John Renbourn, and Bert Jansch.  
Vin Downes has has developed his own unique voice as a composer and guitarist. His focus is to write music that is always contemplative and deeply emotional. 
Vin Downes has released eight studio albums and has performed nationally as a soloist and as Will Ackerman's touring partner. He was also a member of the group Four Guitars, alongside Will Ackerman, Trevor Gordon Hall, and Todd Mosby. 
He has written, recorded, and performed music with Will Ackerman, David Crosby, Tom Eaton, Eugene Friesen, Michael Gulezian, Trevor Gordon Hall, Mai Leisz, Tony Levin, Michael Manring, Todd Mosby,  Jeff Oster, David Watson, and Kenny Withrow. 
Vin Downes is a public school music teacher in New Jersey, where he currently teaches an award winning classical guitar program at Bayonne High School.
 "Vin Downes is a brilliant guitarist and a heart-felt composer. He is a consummate player who draws upon a wide range of styles. The marvelous thing is that his musical voice is unique enough and powerful enough to hold these different threads together seamlessly. His abilities as a player create an even broader palate from which to draw in his performances."  
~ Will Ackerman  - Grammy Award Winner/Founder of Windham Hill Records  
"Just beautiful. I love the way you play…really fine touch…and you swing!" 
~ David Crosby – The Byrds, CSN, CSNY, CPR 
"Wonderful playing. Melodies for days. Bravo!" 
~ Peter Frampton  
"Unbelievably gorgeous touch, tone, and phrasing…understated yet breathtaking voicings. My heavens - I'm blown away." 
~ Michael Gulezian  
"Downes' playing manages to mesh obvious technical mastery of his instrument with an uncomplicated and accessible approach to melody. He exhibits an uncommon control of nuance and shading."  
~ Bill Binkelman - Zone Music Reporter